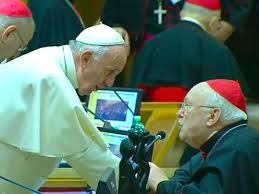 Rod Dreher,
HERE
(October 15, 2015), contrasting (1) the Pope's words in his general audience about need for loyalty to the promises we make our children and his apology for the scandals of recent times; and (2) his appointment of the confirmed pederast, Belgian Cardinal Godfried Danneels as a Synod of the Family father. Sad state of affairs. (Disclaimer:
Rules 7-9
)
Then there's this piece, on SEX, which makes the Synod on the Family seem, as our contributer says, "like a sorority pledge drive": Rod Dreher, "
The 'Yes We Can' Catholics
" (
American Conservative
, October 14, 2015):
I didn't need Father to remind me every week in his homily to keep my pants up. That's not the point. What I could have used was any sign that the life to which I had submitted, in obedience to what I believed was the truth, mattered to the Church. The message I constantly received from the silence in the parish(es) was: You are wasting your time trying to live out these teachings. Nobody here cares about this stuff, so why should you?
[Hat tip to JM]