Alex Begin is many things to many people, but to most who know him he is probably the foremost promoter of the Tridentine Mass in the metro Detroit area next to the late Richard Langrell, whom he calls the "
Father of Detroit's Latin Mass Movement
."
Alex found his way back to the Catholic Faith while a student at Harvard. Instrumental in the process was his exposure to the music at
St. Paul's Choir School
(Harvard Square) in Cambridge, which, he says, "roped me back in." After graduating from Harvard as the youngest member of his class (age 20) in 1982, he also discovered the Traditional Latin Mass, fell in love with it, and has been working tirelessly ever since as an advocate, coordinator, and organizer on behalf of the Tridentine Mass community, not only in Detroit and Windsor, Ontario, but throughout the country.
After learning how to serve the Latin Mass, first in the Ordinary Form in the mid-eighties, then in the Extraordinary Form, Alex has helped establish several Tridentine Mass communities on both sides of the Detroit River -- most notably St. Josaphat in Detroit, and Assumption Church in Windsor, Ontario (where he has been Master of Ceremonies and website manager since 1997, until the community's relocation to St. Alphonsus and Holy Name of Mary, both in Windsor). He has regularly served as Coordinator of and Master of Ceremonies for these and various other Tridentine Masses in Detroit, such as St. Albertus, St. Joseph, Sweetest Heart of Mary, Holy Redeemer, and St. Hyacinth.
He is also known to have trained over 40 priests and bishops on celebrating the Extraordinary Form.
A video of Alex's fascinating account of the history of the Latin liturgy renaissance in Detroit, "
How Metropolitan Detroit Became a Center for Latin Liturgy
," presented at the
Latin Liturgy Association Conference
in Detroit in 2010, can be found immediately below:
Several churches in Detroit have had Ordinary Form Latin Masses for some time, as Alex points out, including Old St. Mary's in the Greektown entertainment district, St. Joseph, and Holy Family. The last-mentioned parish, an Italian-Sicilian parish, had (until 2012) the interesting reputation of never having had a vernacular Mass on its schedule. All of its Masses had always been (until the recent change) in Latin and
ad orientem
. (Other venues not discussed include Assumption Grotto on the East side.)
The video highlights the often austere and difficult beginnings of the Latin Mass revival (particularly in the Extraordinary Form) in Windsor and Detroit with humor and insight. At its nadir, the Windsor Latin Mass community consisted of a small band of intrepid souls who, temporarily banished to a nursing home chapel at the at the height of the SARS Virus epidemic (ca 2002), would allow themselves, in turn, to be sprayed down with disinfectant in order to gain access to the weekly celebration of the Tridentine Mass! Trust me, the video is well-worth watching in its entirety.
If asked of which achievements he is most particularly proud, one answer that invariably comes up is the
Latin/English Propers Handouts
he has created, known for their typographical accuracy, and available on the St. Benedict Tridentine Catholic Community website of The Latin Mass Community of Windsor, Ontario,
HERE
. There are no other published Propers known to be as accurate as these, and they are used at numerous churches around the world.
Since 2006, Alex has also been writing weekly
Tridentine Community News
columns, that appear as parish bulletin inserts at Tridentine Masses in Detroit and Windsor. These columns also appear weekly on this blog and are archived at
http://www.windsorlatinmass.org/latin/tnews.htm
.
Alex is also Executive Producer of
EWTN series
"
Extraordinary Faith
," a 30 minute television program celebrating the beauty of classical Catholic sacred art, architecture, music, and liturgy. (See Preview of Episodes 1 and 2 immediately below.) If there is any one point that he would like to convey, it is that his whole goal is to promote the beauty of traditional Catholicism. "Beauty," he likes to say, "attracts and is its own form of apologetics."
Since 2014, in addition to his involvement in regular liturgies in Windsor, Alex has also been serving as liturgical coordinator, Master of Ceremonies, and board member for the
Oakland County Latin Mass Association
, which has established a new venue for a weekly Tridentine Mass in the chapel of the Academy of the Sacred Heart in in Bloomfield Hills. After Mass, they have recently been featuring a series of regular speakers on various topic related to the Latin Mass liturgy, such as Paul Schultz, an Ann Arbor lawyer and founder of the Michigan chapter of
Juventutem
, a Tridentine Mass movement for young people who meet monthly for a celebrations of the Tridentine liturgy in different parishes, with time afterwards for conversation and fellowship over dinner.
Career-wise, Alex has been an entrepreneur and owner of a computer firm, as well as apartments, and commercial real estate in both Michigan and California. In recent years, however, he has arranged his business affairs so that he has more time to focus on real estate ventures as well as to devote himself more fully to the greatest love of his life (beyond his beloved wife, Diane), namely the Tridentine Liturgy.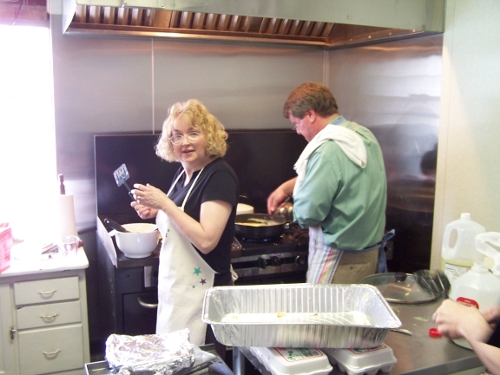 If you were to visit one of the local Tridentine liturgies in Bloomfield Hills or Windsor, chances are you would see Alex assisting at the liturgy as Master of Ceremonies, or assisting someone else in training; and you would doubtless meet his wife, Diane, who often almost single-handedly organizes the receptions afterwards, and all that goes with it. Imagine, furthermore: they do this at least twice (sometimes three times) each Sunday, once in Bloomfield Hills, again at 2:00PM across the international border in Windsor, Canada, and sometimes at yet another venue in Detroit -- and that's not counting weekday Masses. Needless to say, they consider it a labor of love. And for that, all of us who love the Tridentine Mass owe them a debt of gratitude.