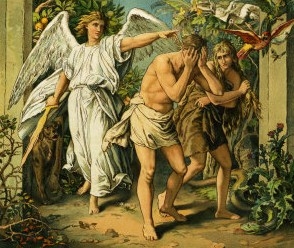 It's always an interesting exercise to review the implications of revising the traditional account. We all know of Catholics we've met or heard about who dismiss the historicity of Adam and Eve, and who consign the first eleven chapters of Genesis to the murky primordial world of "myth."
The importance of thinking more deeply about the implications of such moves on the Biblical-theological chessboard, however, is not always readily seen. For example, an alternative to the traditional Catholic view that Adam and Eve were historically real, first parents of humanity (as Jesus Christ is the "New Adam" and new root of regenerated and redeemed humanity), is the view that they are only "symbols," whatever that is taken to mean. On that view, the Fall (Original Sin) is not to be taken as anything so naively parochial as a "historical event," but rather to be understood as a "fatal flaw" in our nature, empirically confirmed by the pervasive selfishness of human beings we see all about us and in ourselves. Problem with that: it makes God the author of sin, of our sinful nature, because it means there was never a human being with a pre-lapsarian (non-fallen) nature and so God made us selfish and sinfully-disposed. In this case, as Baudilaire famously quipped: if God exists, he's the Devil! (Something like that)
Well here we have an example of someone toying with revisionist interpretation of Genesis, only he's not nearly so radical as the aforementioned views, because he still believes that Adam was a "historical" person. Yet the implications of even his views are far more revolutionary that he suggests. Have a look: "
The Lost World of Adam and Eve
" (
Christianity Today
, March 19, 2015): "Old Testament scholar John Walton affirms a historical Adam -- but says there are far more important dimension to Genesis." Yeah. Right. Interviewed by Kevein P. Emmert,
John Walton
is Professor of Old Testament at Wheaton College, the flagship academic institution of Billy Grahm Evangelicalism in the United States.
Here is what one of our readers writes about this piece:
Let's be frank and let's be honest. If you are going to say "I believe Adam was a real person, but literarily he represents more than just who he was," shouldn't we ask, "How can someone literally be more than who he was?" Are we so determined to try to reconcile the Bible and 'science' that we will swallow such sophistry? And that [sophistry] is without question just what this is, well-intentioned or not. If Walton's take is accepted, it will not only be the world of Adam and Eve or Genesis that will be lost -- all the eager and impassioned endorsements to the contrary. I am increasingly convinced that Original Sin as classically understood is the acid test of orthodox Christianity. [Amen to that!]

From Christianity Today, of all places. Reported as if it is nothing unusual at all [emphasis added]. With no com box option! The ghost of Carl Henry would be spinning in its grave if it hadn't been here diced and quartered under a cone of silence. [Not to mention what Billy Graham would think of this, if he could attend to its import at age 97.]
For further reading:
Dennis Bonnette, "Did Adam and Eve Really Exist?" (Crisis Magazine, November 24, 2014)
"Adam," Catholic Encyclopedia [makes use of a great deal of historical criticism, but fairly cautious]
Dave Armstrong, "Fr. Robert Barron's Denial that the Adam and Eve of Genesis Were Historical Figures and the Primal Human Pair" (Biblical Evidence for Catholicism, November 28, 2013). [And HERE is Fr. Barron offering boiler plate accommodations to prevailing prejudice]
C. John Collins, Did Adam and Eve Really Exist?: Who They Were and Why You Should Care(Crossway, 2011)
Ardel B. Caneday, et al., eds., Four Views on the Historical Adam (Counterpoints: Bible and Theology)(Zondervan, 2013)
J. P. Veersteeg, Adam in the New Testament: Mere Teaching Model or First Historical Man,translated by Richard Gaffin (P & R Publishing, 2012) [Excellent]
"The Fall," Catechism of the Catholic Church (285-421)
John Murray, The Imputation of Adam's Sin(P & R Publishing, 1992) [Theological implications]
Francis A. Schaeffer, Genesis in Space and Time: The Flow of Biblical History (Bible commentary for layman) (InterVarsity Press, 1972) [Basic. Good. Clear.]
Fr. Chad Rippinger, The Metaphysics of Evolution(Books on Demand, 2012)
Alvin Plantinga, "When Faith and Reason Clash: Evolution and the Bible" [PDF] Christian Scholar's Review, XXI:1 (September 1991), 8-33 [Excellent]
Brian W. Harrison, "Early Vatican Responses to Evolutionist Theology" (Roman Theological Forum, May 2001)
George Sim Johnson, Did Darwin Get It Right?: Catholics and the Theory of Evolution(OSV, 2006)
Benjamin Wiker, The Darwin Myth: The Life and Lies of Charles Darwin (Regnery Publishing, 2009)
John Wynne, A Catholic Assessment of Evolution Theory: Weighing the Scientific Evidence in Light of Thomistic Principles and Church Teachings on Origins(RTM, 2011)
"Center for Science and Culture" (Discovery Institute)
Msgr. Charles Pope, "The Problem of Polygenism in Accepting the Theory of Evolution" (Archdiocese of Wathington, October 24, 2010)
[Hat tip to JM]