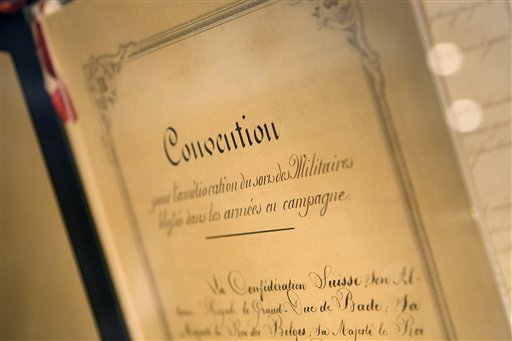 "
Marty Haugen Music To Be Outlawed Under New Geneva Convention Resolution
" (October 24, 2013):
Geneva, Switzerland–New guidelines set down by the international community during the fifth Geneva Convention this week has extensively defined the basic, spiritual wartime rights of the Church Militant by outlawing all Marty Haugen music used in and around war-zones. What is officially being called The Geneva Convention relative to the Protection of Parishioners in Times of Spiritual War has become the fifth convention establishing the standards on international law for the humanitarian treatment of spiritual war. "Our new resolution states that all Catholics who are in the process of spiritual warfare are to be treated humanely," Said General of the Counsel Robert Durant at a press conference earlier this morning. "The following acts are to be henceforth prohibited: Violence to life and person, in particular, cruel treatment and torture by means of being made to listen to Gather Us In. Outrages upon personal dignity, in particular humiliating and degrading treatment such as asking parishioners to sing along to We Remember. And finally, all acts requiring parishioners to listen to said music during the reception of communion."
All this, of course, is entirely serious. I'm serious.
[Hat tip to C.N.]