Fr. Ashley Beck, "
No Catholic is free to dissent from the teaching of Laudato Si'
" (
Catholic Herald
, June 19, 2015), is quite clear about what he thinks of dissent, at least, if a little less clear about what, exactly, this encyclical teaches that makes it uniquely important just now. Surely it's more than: "Look up from your phones and encounter each other"
Fr. Beck identifies the encyclical as falling "in the tradition of papal encyclicals, beginning with Leo XIII's
Rerum Novarum
in 1891, right up to Benedict XVI's last encyclical from 2009,
Caritas in Veritate
...." That's good company.
He writes:
This encyclical, deep and astute in so many ways, is not a work about the environment, or economics, or political theory – rather, it is theology... papal social encyclicals like Laudato Si' are part of the ordinary Magisterium of the Church....

What this means is that while the Church does allow for divergent viewpoints on some issues (Laudato Si' 61), we are simply not free to dissent from the teaching of this encyclical, any more than we are free to dissent from Catholic teaching about other moral issues.
Curiously (or maybe not so curiously, considering the times), while Fr. Beck says that this encyclical is "deep and astute," he nowhere says what the encyclical's teaching is. He doesn't even try. Which makes me wonder whether he even knows for sure. Could he summarize its message in 25 words?
Which, in turn, makes me wonder why he is so eager to prevent "dissent" from the encyclical's teaching that he emblazons that prohibition across the top of his article as its headline.
Does this remind you just a little of the tenacity with which some Catholics insist that one must give full assent to the "teachings of Vatican II" (which was not a dogmatic council), and yet those same Catholics would usually be hard pressed to define what uniquely-important doctrines are given expression by the Council that were not clearly resident in previous Sacred Tradition? Is "ecumenism" a doctrine? Is "ecological conversion"? What do they mean?
Bit wait, there's also this: Danny Wiser, "
Obama calls for world leaders to heed Pope Francis's message
" (
Catholic Herald
, June 19, 2015). Wiser writes: "The US president hails the Pope's intervention as 'clear and powerful'." Maybe he can tell us what it means. Why, do you think, is he so giddy about this encyclical?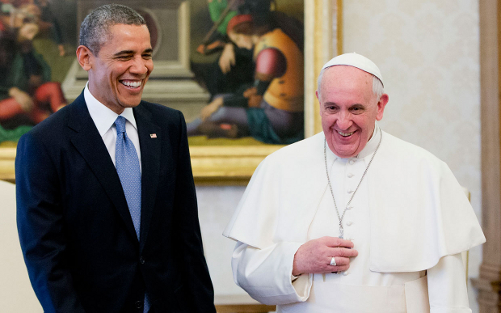 Then there's this question: regardless of whether Mr. Obama knows what Pope Francis means by his encyclical, Mr. Obama apparently has good reason for affirming what it means to
him
; and is there a shred of doubt in anyone's mind that this meaning is amicable or even benign
vis-a-vis
the Gospel of our Lord Jesus Christ? What larger purpose do you think Mr. Obama wants this encyclical to serve; and how does that purpose compare and/or contrast to the purpose Pope Francis has in mind?
I'm reminded of two elderly church ladies who came out of a Methodist church where they had just finished hearing Paul Tillich preach. "Wasn't it beautiful," exlaimed the one. "Yes, but what did it mean?" asked the other. And they smiled at one another and made their way home.
Yes, I've read the encyclical. I'm sure if we asked every person (like
Hans Joachim Schellnhuber
) who apparently had a hand in writing the document, we'd get quite different accounts as to its meaning. I should like to hear Cardinal Gerhard Müller, Prefect of the Congregation for the Doctrine of the Faith, offer a summary of what it means, so I may know what I'm assenting to, beyond all the traditional Catholic doctrines that are already in the Church's deposit of Faith.