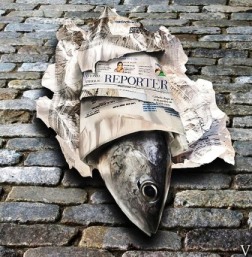 First,
Fr. Z. writes
:
Here is something that I never thought I would write

Fr. Z kudos to Jamie Manson of the National Schismatic Reporter.

One of Fishwrap's headliners, a darling of LCWR, the openly-lesbian, Margaret Farley-mentored Jamie Manson has sobered up about Pope Francis.

She has a piece in the Fishwrap today in which she tosses Francis under the bus. Be clear about this: she is wrong in her positions, but she is honest enough to state her case clearly and she sees accurately what is going on.

Context: she starts with the high hopes which the liberal, dissenting LCWR-ers had for Pope Francis, how jazzed they were at the odd comments João Card. Braz de Aviz (Prefect of Religious) made to the plenary meeting in Rome of the UISG. Then she gets into it: Read more here >>
Next, no better way to cut to the chase than to visit Michael Voris' enthusiastic account below:
This leaves unaddressed other questions about Catholic tradition, the New Evangelization, Vatican II, liturgy, and so forth; but the response of dissenters now turning against the Holy Father for these points of orthodoxy speaks well for clarity of these points of dogma and doctrine.