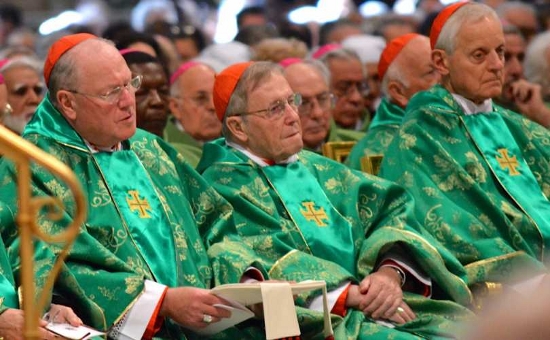 My, oh my! "
Pope appoints leading opponents of Catholic doctrine to Ordinary Synod
" (
Voice of the Family
, September 15, 2015):
Appointees who will be attending solely because of the Holy Father's invitation:
Godfried Cardinal Danneels, Archbishop Emeritus of Mechlin-Brussels
John Cardinal Dew, Archbishop of Wellington
Walter Cardinal Kasper, President Emeritus of the Pontifical Council for Christian Unity
Oscar Andrés Cardinal Rodríguez Maradiaga, Archbishop of Tegucigalpa
Christoph Cardinal Schönborn, Archbishop of Vienna
Donald Cardinal Wuerl, Archbishop of Washington
Archbishop Blaise Cupich, Archbishop of Chicago
Others whose presence at the Synod should cause some concern:
Lorenzo Cardinal Baldisseri, General Secretary of the Synod
Reinhard Cardinal Marx, Archbishop of Münich and Freising
Vincent Cardinal Nichols, Archbishop of Westminster
Archbishop Salvatore Fisichella, President of the Pontifical Council for New Evangelization
Archbishop Bruno Forte, Special Secretary of the Synod
Archbishop Diarmuid Martin, Archbishop of Dublin
Archbishop Heiner Koch, Archbishop of Berlin
Archbishop Vincenzo Paglia, President of the Pontifical Council for the Family
Bishop Franz-Josepf Hermann Bode, Bishop of Osnabrück
Bishop Johan Bonny, Bishop of Antwerp
Bishop Jean-Paul Vesco, Bishop of Orans
Read the rest of these concerned analyses
here
and
here
.
But of course this is all just a ruse by which to entertain the media and keep us all on our toes -- a brilliant tactical
feint
by which they're only
seeming
to lurch left, but at the last minute, are in fact going to lurch right and pull a Torquemada on us. Right? There ya go: thought we were gonna go all soft and theologically mushy on ya, didn't ya? Didn't know we were gonna start roast heretics again, eh? Gotchya good!