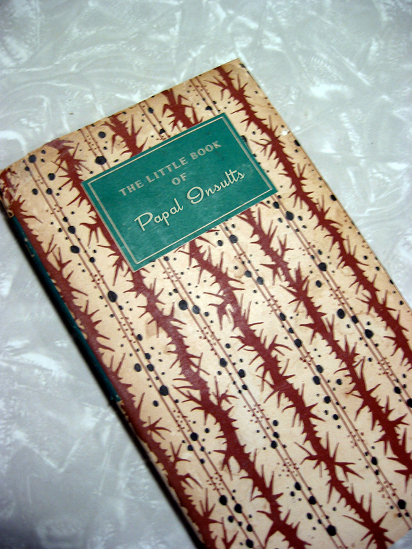 You may remember our review of "
Pope Francis' Little Book of Insults
" (
Musings
, December 14, 2013) with a sampling of quotable insults (follow the link to the source article for more).
Well, now New Oxford Review has come out with an editorial piece entitled "
Pope Francis: Put-Down Artist?
" (New Oxford Notes, April 2014). Delightful:
From the moment Jorge Mario Bergoglio stepped out onto the central balcony of St. Peter's Basilica and asked the world to "pray for me," a persistent theme has resounded in the mainstream media. Pope Francis, as the popular narrative would have it, has singlehandedly set a "new tone" for the Church after decades, if not centuries — or millennia! — of crankiness and stagnation. Consider these headlines:

"Francis' humility and emphasis on the poor strike a new tone at the Vatican" (New York Times, May 25, 2013)
"Pope Francis changes the Church's tone on gays and women" (The Examiner, July 30, 2013)
"Pope Francis' focus on mercy sets new tone for Roman Catholic Church" (Los Angeles Times, Sept. 29, 2013)
"Pope softening tone, not stance, O'Malley says" (Boston Globe, Feb. 9, 2014)

Astute Catholics know that Francis's emphasis on the poor and the need for mercy is nothing new — these are perennial Christian themes. But it seems that this is the first time the modern media has made note of a pontiff hitting on these points. And it's led to a severe case of journalistic "diarrhea of the pen."

Hear, for instance, Nancy Gibbs, Time magazine's managing editor. She explained the magazine's rationale for naming Francis "Person of the Year" for 2013 thus: "He really stood out to us as someone who has changed the tone and the perception and the focus of one of the world's largest institutions in an extraordinary way." David Wiley of the BBC said, rather expansively, that Francis "has struck an unusual new tone at all levels of communication" (July 29, 2013; italics added). Francis has been praised by The New York Times for "transforming perceptions" with his laid-back approach, for "lifting morale" and "bringing a new sense of enthusiasm" to Catholics. He's even been credited with increasing tourist traffic at the Vatican!

Robert Bowen of The Examiner said that, "for most Catholics," Francis's "tone of love, acceptance and respect is welcome and long overdue." Bowen made bold to state that, by virtue of his non-condemnatory words about homosexuals, Francis "sounds more like Jesus than previous popes." Terminal liberal James Carroll chimed in with a similar take. In a lengthy puff piece in The New Yorker (Dec. 23, 2013) he wrote that Francis has "stepped away from the disapproving tone, the explicit moralizing typical of Popes and bishops."

The general consensus seems to be that Pope Francis is something of a softy, an easygoing, avuncular type of guy — especially compared to his immediate predecessor. Nowhere did this come across more clearly than in Mark Binelli's now-infamous Rolling Stone article (Feb. 13). Francis, Binelli claims, "has done much to separate himself from past popes and establish himself as a people's pope." Binelli imagines that Francis offers "a friendlier alternative to Benedict XVI," whose papacy he describes as "disastrous," and whom he disparages as having been "a staunch traditionalist who looked like he should be wearing a striped shirt with knife-fingered gloves and menacing teenagers in their nightmares" — Freddy Krueger in a miter and red shoes.

Praising Francis by denigrating Benedict is not solely the purview of hierarchy-hating cafeteria Catholics and rock 'n' roll journalists. Even high-ranking prelates in the Church have gotten in on the game. In an interview with John L. Allen Jr. (now of the Boston Globe), Sean Cardinal O'Malley, archbishop of Boston, "said Francis' early stress has been on changing the emphasis of the church, which in the past has been 'too strident, maybe too repetitious.' The pope wants to focus more on evangelism, mercy, and care for the poor, O'Malley said." While O'Malley was able to restrain himself from likening Benedict to a horror-movie maniac, he did our Emeritus Pope the disservice of describing his ministry as strident, repetitious, and less focused on mercy. But hey, who isn't piling on these days?

The popular image of "Francis the Friendly Pope," as gossip website Gawker.com calls him, didn't emerge out of nowhere. Its genesis is found in Francis's own words. "We need to see the light of hope and to be men and women who bring hope to others," Francis said at his installation Mass. "To protect creation, to protect every man and every woman, to look upon them with tenderness." This is a theme the Pope has repeated on numerous occasions, and he has gone out of his way to model this behavior.

But a word of caution to O'Malley, Binelli, Carroll, et al. is in order. Pope Francis's "new tone" has a shrill pitch to it that unattuned ears haven't yet picked up on. Overlooked amid all the gushing over about Francis's kinder, gentler approach to the papacy is that he isn't quite the Nice-Guy Pope he's been made out to be. Oh sure, he's gone out of his way to ingratiate himself (and, by extension, the Church) to atheists, Muslims, Protestants, Jews, and assorted other nonbelievers. Generally speaking, his language of mercy and compassion has been directed toward "outsiders." To those inside the sheepfold, however, he's struck a startlingly different tone. As Catholic writer Michael Brendan Dougherty has observed, "Where Benedict sought to condemn errors in the abstract, Pope Francis makes it personal and attacks tendencies within certain groups of people, usually in highly stylized papal idioms" (The Week, Feb. 11). In fact, Francis has proven himself to be something of an acid-tongued put-down artist. As Dougherty puts it, "Francis is practically an insult comic" — Don Rickles in a white cassock, if you will.

As a point in fact, Francis has, in no particular order, railed against "airport bishops," and scored the "shepherds" he thinks are "ambitious men" and have "the psychology of princes." He's thundered against "the trap of careerism," which he calls "a form of cancer." The Pope has even scolded elderly nuns, warning them not to become "spinsters"!

Francis hasn't spared laymen his ire either. He has skewered Catholics who "constantly complain," calling them "Mr. or Mrs. Whiner." He has condemned "Christians of words," whom he derides as "gnostics" and "Pelagians" (an oft-used papal put-down). He has set his tongue against the "slaves of superficiality" and the "slaves of rigidity" who "masquerade as Christians."

Most outrageously, perhaps (and not because we're the targets of this particular barb), Francis has said that "journalists sometimes risk becoming ill from coprophilia and thus fomenting coprophagia." For those of us not blessed with the same breadth of vocabulary as the Pope, coprophilia is defined as "an abnormal, often obsessive interest in excrement, especially the use of feces for sexual excitement." Coprophagia is defined as "feeding on excrement." (Hey, don't send us your complaints — the Holy Father said it; we're merely reporting on it!)

The Pope's potshots have also popped up in his papal documents. In his apostolic exhortation Evangelii Gaudium he calls out all the "querulous and disillusioned pessimists" and "sourpusses" in the Church (no. 85; yes, the term sourpusses is now forever embedded in the official lexicon of the Church). He also derides the "self-absorbed promethean neopelagianism," "narcissistic and authoritarian elitism," and "anthropocentric immanentism" of those who "remain intransigently faithful to a particular Catholic style from the past" (no. 94; which is his convoluted way of saying that he really doesn't like tr

British Catholic Laurence England writes that, "in sifting through media reports, I was shocked by how often the Pope criticized Christians and by the severity of his insults" (CNN.com, Feb. 19). England lists some of Francis's more noteworthy nuggets of negativity, names the Pope has actually called people: "pickled pepper-faced Christians," "closed, sad, trapped Christians," "defeated Christians," "liquid Christians," "creed-reciting, parrot Christians," and "watered-down faith, weak-hoped Christians." He has even gone so far as to call Catholics who focus on Church traditions "museum mummies." Oh, how he despises those ill-starred traddies!

Clerics, however, are the ones who have felt the full force of Francis's fulminations. He has gone after those he considers "vain" butterflies, "smarmy" idolaters, and "priest-tycoons." He's even described some seminarians as potential "little monsters."

So much for trying a little "tenderness"!

Francis has built up such an arsenal of put-downs that England says he's been commissioned to write The Pope Francis Little Book of Insults. (He jests, of course, but if some publisher takes up the notion, the volume might soon become encyclopedic in length.)

It's likely that many observers haven't picked up on Francis's acerbic side precisely because his pointed barbs are directed at Catholic "insiders," and not the general public. And those barbs of his are, indeed, quite pointed. But one must ask: Why the vitriol directed toward the faithful?

An argument could be made that Francis is, as Bowen would have it, behaving "like Jesus." (More so than previous pontiffs, however, stretches the imagination.) Our Lord saved some of His greatest words and acts of mercy for "outsiders" — tax collectors, prostitutes, Samaritans, Gentiles. And He directed some of His greatest diatribes against His co-religionists, particularly the clerical class, the Pharisees and Sanhedrin, for whom He reserved such bitter epithets as "whitewashed tombs," "hypocrites," "brood of vipers," and "children of thy father, the devil."

We think we know what Francis is trying to accomplish with his verbal scourging of the flock. Like any spiritual father who's concerned about the welfare of his children, he wants to keep our feet to the fire, mindful of the need to stay awake and alert, aware of the many pitfalls into which the spiritually superficial, and the supposedly spiritually "superior," might easily fall. He doesn't want his charges to become too comfortable or complacent in the faith, or to stop seeking spiritual growth or become lax in religious discipline. There is a biblical precedence for this. As the Book of Proverbs teaches, "Chasten thy son while there is hope, and let not thy soul spare for his crying" (19:18). Indeed, such chastening is itself a reflection of God's love for His children: "For whom the Lord loveth, he chastiseth; and he scourgeth every son whom he receiveth" (Heb. 12:6).

We, as spiritual children, are not to flinch from chastening, but are to "persevere under discipline. God dealeth with you as with his sons; for what son is there, whom the father doth not correct?… Now all chastisement for the present indeed seemeth not to bring with it joy, but sorrow; but afterwards it will yield, to them that are exercised by it, the most peaceable fruit of justice" (Heb. 12:7, 11). Put more simply, "Blessed is the man whom thou dost chasten, O Lord" (Ps. 94:12).

Though Francis's approach is often puzzling and at time comes across as highly irregular (or un­professional, in American terms), its effectiveness will ultimately be determined by our willingness to be knocked down a peg or two by a Pope who pulls no punches.
[Hat tip to JM]