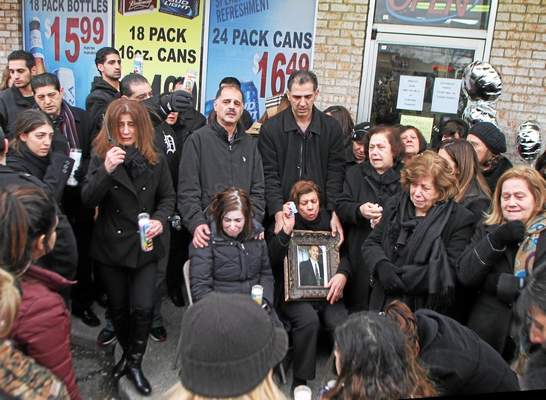 "
Clinton Township party store shooting victim was a cancer survivor
" (Macomb Daily, March 29, 2014):
Basim Sulaka was able to beat cancer, but unable to stop the gunfire that took his life in a robbery.

About six months after the 51-year-old Sterling Heights resident successfully completed a series of grueling chemotherapy sessions, he was killed late Friday in a robbery at the party store he owned and operated in Clinton Township.

"It's not fair, said Mark Adamo, a cousin of the victim, said Saturday. "Words cannot explain what happened here."

Adamo was one of an estimated 300 people -- customers, friends and relatives -- gathered Saturday night at the Moon Lite party store on Harper Avenue north of 14 Mile Road for a candlelight vigil to honor the man they fondly knew as "Basil."
A mutual acquaintance writes: "Basim 'Bail' Sulaka, a member of the Chaldean community, was a good family man, a proud father of two teen daughters, a cancer survivor and a beloved part of our neighborhood. I was blessed to see his smiling face and experience his kind demeanor often. Please pray for his family and our community."
An ABC News report (VIDEO) shows the amazing outpouring of grief and affection for the victim:
http://www.wxyz.com/news/police-search-for-3-suspects-in-clinton-township-murder