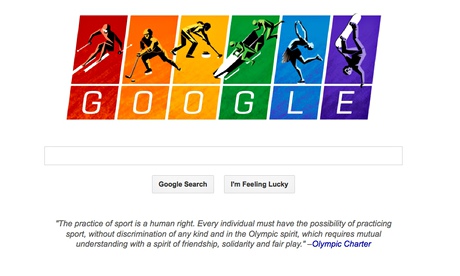 And Guy Noir comments: "I guess Gov. Cuomo has the right idea after all. Certain views are illegitimate and wrong. The State
and the Culture
will legislate morality.
Their
morality. Does absolutely anybody think that without a robust counter witness our children stand a chance of adhering to what we believe to be the Truth? Maybe it is because I teach and frequent the web, but to me this seems demoralizing on several levels."
The full extent of Google's self-righteous moralizing can be viewed in its bloated amplitude at "
Rainbow Google doodle links to Olympic charter as Sochi kicks off
" (The Guardian, February 7, 2014).