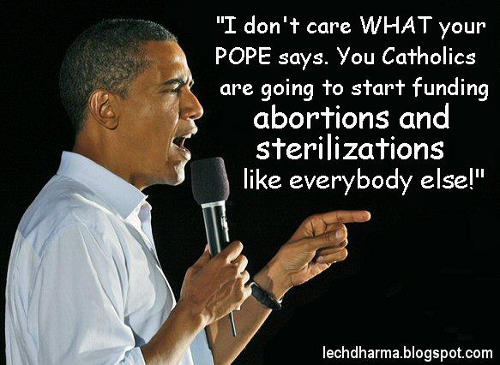 But the problem is that most so-called Catholics already are!
.
There are two problems here: (1) The Obama administration's HHS Mandate runs rough shod over the freedom of Catholics to practice their religion, which includes -- for those Catholics who give a fig about Church teaching -- abstaining from complicity in the sins of abortion and sterilization ... all of which flies in the face of Democratic principles of individual liberty and freedom of conscience; and (2) most nominal Catholics, and even many that go to Mass more often than Easter and Christmas, don't find anything wrong with Obama's HHS Mandate, because they already support a "woman's right to choose" and covertly (or sometimes not-so-covertly) practice contraception themselves.
Is there a message here the Church leadership can take to heart about the consequences of neglecting to offer a clear catechesis and stalwart defense of Church teaching?