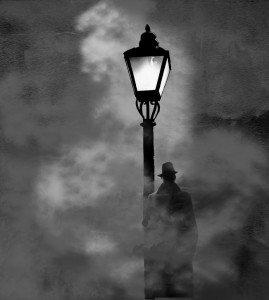 Our undercover correspondent we keep on retainer in an Atlantic seaboard city that knows how to keep its secrets,
Guy Noir - Private Eye
, wired us a telegram two weeks ago when the news came out about the
Church of England voting to ordain women bishops
.
"You know," said the lengthy telegram, "Catholics will scoff at the Archbishop being advised by David Cameron, but I wonder how very different that is i-n s-p-i-r-i-t from the Pope giving repeated interviews to atheists?"
Indeed, I had just read that of the 12 media interviews granted by Pope Francis, eleven were with secular atheists. Maybe he's trying to reach out ...
Noir continued: "It is all of the same cloth of openness to the world and feeling the need for the church to be tutored.
"And while I am at it," the text went on, "if this is not an instance of a very real and obvious teaching moment, what is? 'I don't understand? Don't Catholics value women too? Why can't women be priests? See, the C.O.E. [Church of England] is going through all this too! Aren't they also Christians and partners in the Gospel?'
"Silence simply adds strength to the secular argument. The modernist movement can't be contained or countered by being nice.
"I wish I had access to the profile of the female bishop of D.C. (Episcopal) in the new issue of the W-a-s-h-i-n-g-t-o-n-i-a-n Magazine. It shows you what we will be up against for the next decade."
Albert Mohler, in
his essay on the matter
, begins with the following observation:
Writing about the age of John Milton, the British author A. N. Wilson once tried to explain to modern secular readers that there had once been a time when bishops of the Church of England were titanic figures of conviction who were ready to stand against the culture. "It needs an act of supreme historical imagination to be able to recapture an atmosphere in which Anglican bishops might be taken seriously," he wrote, "still more, one in which they might be thought threatening."
Hmmmm ... Food for thought.
Then he concludes with this:
The Rt. Rev. William Ralph Inge, Dean of St. Paul's Cathedral in London in the early 20th century, once famously remarked: "Whoever marries the spirit of this age will find himself a widower in the next." Now, that is a word from an Anglican we all need to hear.
Hmmmm. More food for thought.