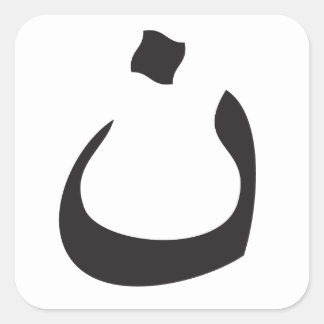 I've received a number of inquiries from people wishing to express in some way their solidarity with their fellow Christians in Syria and Iraq being persecuted and martyred for their faith. One such person recently asked where one could purchase a pin or T-shirt or bumper sticker with the Arabic letter 'n' used by ISIS agents to mark houses belonging to "Nazarenes," or Christian, as a warning to convert to Islam or be killed.
When I asked Christopher Blosser, he responded by saying that "the 'Voice of Martyrs' charity (inter-denominational Christian organization) is already doing this (although there are plenty of others, just google-image-search the symbol) or find it on zazzle:
http://www.zazzle.com/christian+tshirts
"
"If the purpose were to support the martyrs and victims of persecution -- it would probably be preferable to do it via this route, where 50% is going directly to Christians in Iraq.
https://secure.persecution.com/i-am-n/default.aspx?source=WEBBLOG
"VOM's new i-am-n T-shirt features an image of the Arabic letter "N" similar to those painted on the homes of Christians in northern Iraq by IS (Islamic State). The shirts cost $20 each, and $10 of each purchase will go directly to support our Iraqi brothers and sisters."
Zazzle also has stickers here:
http://www.zazzle.com/support_christians_arabic_letter_n_nuun_sticker-217836027176413802