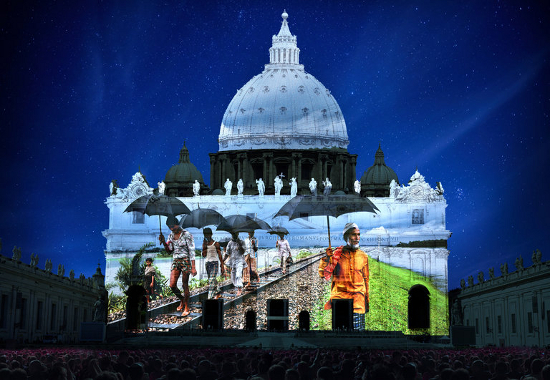 Pete Baklinski, "
Vatican, World Bank partner to launch Year of Mercy with St. Peter's 'climate change' light show
" (LiveSiteNews, December 4, 2015):
ROME, December 4, 2015 (LifeSiteNews) -- The Catholic Church, founded to shed the light of Christ on the world, has quite literally invited the world to shed its light on her. On December 8, the Feast of the Immaculate Conception as well as the opening of the Extraordinary Jubilee of Mercy, Pope Francis has allowed climate-change partisans and population-control advocates to project a light show onto the façade and cupola of Saint Peter's Basilica in Rome — the most important church in the Catholic world — so as to "inspire change around the climate crisis."

The show titled "Illuminating Our Common Home" will project onto St. Peter's "images of our shared natural world" in order to "educate and inspire change around the climate crisis across generations, cultures, languages, religions and class," states a press release about the event put out by one of the sponsors.
So this is what the bottom line of the Gospel message has come to?
[Hat tip to JM]