This one, again, from underground correspondent,
Guy Noir - Private Eye
, our researcher, culture analyst, and news critic on retainer: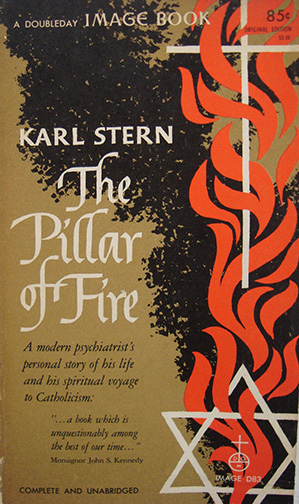 Comments Mr. Noir:... FASCINATING.

I discovered Karl Stern while researching Frank Sheed. This piece in The Tablet is remarkable for its candid observation of how totally fogotten he now is, just like so much of preconciliar Catholicism. And it is also telling for its indication of how necessary the author feels it is to attempt a Ratzingerian-like rapprochement between old and new eras. Stern can be praised for many things, but he can't be allowed to get away with having had a complex about his own Jewishness? Is that actually so problematic? If he was conflicted, he was conflicted. Why does that have to mean the tarnishing of his testimony, or become such a point of focus? If he felt like he was the best person to tell and interpret his own journey, who are we not to take it at its word?

The Pillar of Fireis remarkable reading: it does need rediscovering. Service rendered and appreciated.

What it doesn't need is defending. Exception taken.
Deborah Ostrovsky, "
The Freudian Became a Catholic
" (The Tablet, August 25, 2014): "Karl Stern, Canadian psychiatrist and writer, was in his day a famous Catholic convert. Why has he been forgotten?"
Excerpt:
Who was Stern? Internet searches had turned up little. My plan was, during a European holiday, to donate The Pillar of Fire to Munich's Jewish museum. It only seemed right: to give it to a place dedicated to a people many of whom scattered to Montreal, London, and Washington Heights, but only if they didn't perish in Bergen-Belsen or Dachau. I had skimmed the first section and knew that Stern had adored Munich, where he had studied medicine. "With the exception of Paris," he writes with an ardor usually reserved for descriptions of lovers or great works of art, "there has never been a town which had so much individual expression, so little of the artifact and so much natural growth."

Later I would discover that Stern's memoir, his novel, and assorted essays on music, medicine, and religion had made him a quasi-celebrity. Back in 1939, his young family settled in a jerry-built row house near the mental hospital where he worked on Montreal's outskirts. A decade later, he would become one of Canada's founding fathers of psychiatry. He would write best-sellers like The Pillar of Fire, reprinted 17 times in paperback and translated into Spanish, French, Italian, Dutch, and German. His 1961 study on psychology and religion, The Third Revolution, would spark correspondence with Carl Jung. The Flight From Woman (1965), a philosophical treatise on modern society's polarization of the sexes and its de-feminization, would make him a common name in women's magazines. He corresponded with leading rabbis, poets, and writers—Robert Lowell, Ivan Illich, C.S. Lewis, Thomas Merton—and other religious luminaries of his day. Along with Jean Piaget and Maria Montessori, he would join UNESCO's Committee of Experts on German Questions. Graham Greene was his houseguest. American Catholic activist Dorothy Day was a close friend. He would be profiled in Time and write for the New York Times.

The Munich museum expressed gratitude for my donation, although they'd never heard of him.

***

How did Karl Stern become so forgettable? Little has been written about him since the decades following his death in 1975....
Read more >>