"I will go in unto the Altar of God
To God, Who giveth joy to my youth"
Tridentine Community News
(September 15, 2013):

Another local church will be joining the ever-growing roster of sites which have hosted the Tridentine Mass: On Friday, September 27 at 7:00 PM, Dearborn's historic St. Alphonsus Church will host its first Holy Mass in the Extraordinary Form. The celebrant will be Msgr. Ronald Browne. The Rosary will be prayed before Mass at 6:30 PM.

Young adults age 18-35 are invited to a dinner after Mass sponsored by Juventútem Michigan. More information is available on the Facebook event page.

[Photo from the Archdiocese of Detroit Film Services collection at http://aodfilmservices.smugmug.com]

Upcoming Special Masses at Historic Churches

The pace of special High Masses is picking up, with four special Masses scheduled at historic Detroit area churches over the next several weeks:

St. Albertus Church: Sunday, September 22 at 12:00


Assumption Church, Windsor: Tuesday, September 24 at 7:00 PM – The St. Benedict Tridentine Choir will sing Mozart's Requiem Mass and the Lacrimósa from Mozart's Dies Iræ at a High Mass for the Dead. This special music program was made possible through the generosity of Windsor Tridentine Mass Community co-founder John Foot.


St. Joseph Church: Saturday, September 28 at 4:00 PM (Mass satisfies Sunday obligation) – The Oktoberfest Parish Festival will be held that Saturday and Sunday.


St. Hyacinth Church: Sunday, October 13 at 1:00 PM. Benediction of the Most Blessed Sacrament will follow Mass. St. Hyacinth will also offer a First Saturday Low Mass the previous Saturday, October 6 at 9:00 AM.

Ohio Bus Tour and Tridentine Mass




On Monday, October 7, the Feast of Our Lady of the Rosary, there will be a bus tour to Ohio, visiting Toledo's Our Lady Queen of the Most Holy Rosary Cathedral and Bellevue's Sorrowful Mother Shrine (pictured), where a Tridentine High Mass will be offered at 3:00 PM. The cost is $45, which includes lunch. For more information or to register for the tour, call (248) 250-6005 or visit www.prayerpilgrimages.com.

Reminder: Rosary Indulgence

It is important for Catholics to be aware of the numerous opportunities that Holy Mother Church provides to gain Partial and Plenary Indulgences, which remit either some or all (respectively) of the temporal punishment due for sin. Of recent note, it has been encouraging to see the publicity given to the Plenary Indulgences that may be earned by visiting designated pilgrimage sites during the Year of Faith.

One of the easiest ways to gain a Plenary Indulgence is to pray the Holy Rosary in a church. The conditions to gain this and any Plenary Indulgence are Confession within 20 days, reception of Holy Communion, prayer for the Holy Father's intentions, and freedom from attachment to sin. To help the maximum number of the faithful take advantage of this great grace, the Rosary is prayed publicly before Sunday Mass at St. Josaphat, St. Albertus, and Assumption-Windsor; after the First Saturday Masses at St. Hyacinth; and before most Last Friday Masses organized by Juventútem Michigan. If you are interested in leading the Rosary before Masses on these or other days, including weekday Masses, please see one of the volunteers at the entrance to the church.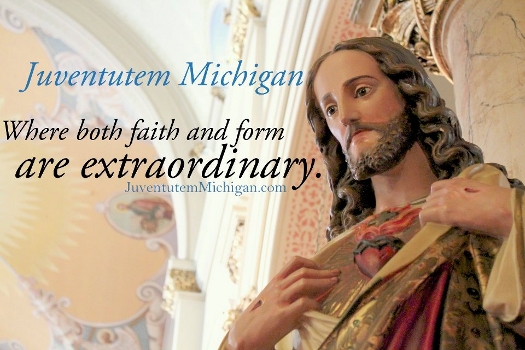 [Comments? Please e-mail tridnews@detroitlatinmass.org. Previous columns are available at http://www.detroitlatinmass.org. This edition of

Tridentine Community News

, with minor editions, is from the St. Josaphat (Detroit) and Assumption (Windsor) bulletin inserts for September 15, 2013. Hat tip to A.B., author of the column.]