Pictured above is the sanctuary of the Brompton Oratory in London after all the changes had been made that were mandated for Catholic churches by Vatican II and post-Vatican II legislation. Yes, that's right. Read it again.
In short,
NO
changes were mandated -- not moving the Tabernacle from the central point in the altar, nor placing a chair in the middle of the sanctuary, or removing the Communion rails, or even Mass facing the people with the priest standing behind a free-standing altar.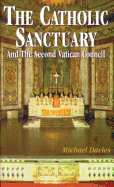 I remember being amazed by this thesis when I first ran across it years ago, illustrated so simply and ably by Michael Davies in his little booklet,
The Catholic Sanctuary and the Second Vatican Council
.
The photograph he used was of the sanctuary in the Brompton Oratory too, though not the same photo (as you can see at right).
Makes you stop and think, doesn't it? Especially if you're one of those people who prides himself in being a faithful "Vatican II Catholic"!
What happened?